Free Genealogy Search Tool
GenfoSearch
Easy to use web search tool for genealogy resources, surnames and records. Searches several different sites from one screen. No need to re-enter data for each search site.
Try a simple search using the online "Genfomatic Web Search" in the left menu of this screen.
The GenfoSearch software has many more features and options to refine GenfoMatic searches and features to search many additional web sites.
See features below.
Version 1.1.0004 May 29, 2005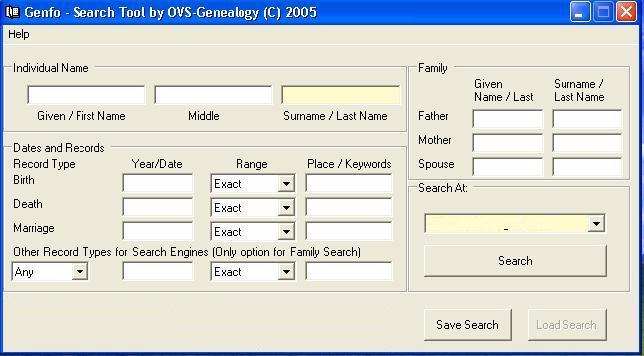 Free
GenfoSearch is 100% free to download. Download GenfoSearch
Get GenfoSearch on a CD. The CD version is simpler to install and requires no additional downloads except for the Internet Explorer Version 5.01 or higher.
Features
Save your search queries.
Load your saved queries.
Download updates and request search engine additions.
Search any genealogy site indexed by Google, MSN, or Yahoo.
Create a custom search links page, for each individual, which can be saved by searching using the GenfoMatic custom search.
This utility works in conjunction with your default internet browser. It aids in building complex search strings based on your input and sends the string to your browser. The internet browser opens and the results are accessed directly through your internet browser on the sites actual pages. This software does not parse and dig for information within the site itself.
Search any site indexed by the major search engines. No need to spend hours looking through long lists of links on semi organized sites. Find what you are looking for.
This software does not contain adware or spyware and does not keep track of when and where you search. You choose the query data to save. *Search queries are saved the resulting web pages are displayed in your web browser.
We welcome suggestions to make this software more useful to you.
Requirements
Windows version 98 or newer
Internet Explorer version 5.01 or newer Download The latest version from Microsoft.
Additional Requirements
You do not need to install the items listed below unless installation program asks you to do so.
It is only necessary to download the packages below if they are not already installed on your system. They only need to be installed once. These packages are included on the CD Versions to avoid downloading them.
Once these are installed the computer should be able to run any program that is written using Microsoft's new .NET technology.
Microsoft's Net Framework - Download - This package contains the files that allow the new .NET programs and software to run on your computer.
Microsoft's Data Access Objects - Download Windows XP users already have this installed as part of the operating system. Other software may have already installed this if you are using another operating system such as Windows 98, ME NT etc.. You do not need to install Data Access Objects unless the installation program asks you to.
| | |
| --- | --- |
| | $1.00 +$3.20 Shipping & Handling |
If the cart is not working please try purchasing directly through PayPal --the link below. Its free and easy to join PayPal.
$1.00 + Shipping $3.20 = $4.20